Orchard Breezin' – Fruit Flavoured Wines
Let Orchard Breezin' Whisk You Away!
Refresh yourself, and your guests, with the subtle fruit flavours of Orchard Breezin' wines. Light in alcohol, perfectly balanced and not too sweet, Orchard Breezin' is the perfect beer and wine alternative. Sip your favourite Orchard Breezin' wine during cherished moments of "me" time, or serve it to family and friends to make every social occasion extraordinary. Ready to drink in only four weeks, Orchard Breezin' wines can be enjoyed chilled on their own or mixed with juices, sodas, and liqueurs to create crowd-pleasing cocktails. Orchard Breezin' offers a wide variety of fruit flavours that will appeal to every palate. Each Kit contains everything you need to make 23 L of your very own craft wine in as little as 4 to 5 weeks.
For In-Store Winemaking
Each batch of wine made in-store produces 28 to 29 bottles (750 ml) of sweet, finished wine within 4 to 5 weeks.
Prices for batches of wine made in-store include corks. Labels, seals, and bottles are available in-store for an additional fee.
Prices are subject to change without notice.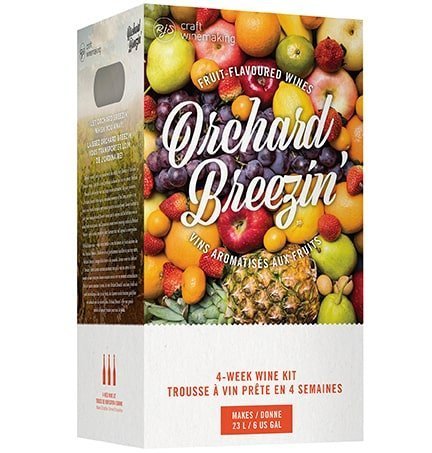 Acai is a small, dark purple fruit that is so tasty, that you can hardly believe it is also good for you. This intense fruit combined with sweet, ripe raspberries creates a powerhouse of a wine.